Teach yourself
Learn how to increase your coordination, sharpen your cognitive skills and enhance your self-confidence in the comfort of your own home.
The Move With Balance® activities are perfectly designed for solo use, especially for seniors who are mobile and independent. You will find that the book and partner videos provide a easy, convenient and flexible method for you to improve your balance, vision, coordination, and cognitive functions.
Once you have purchased the book, you will have access to 60 online videos. Become part of the Move With Balance community, which gives you access to webinars, lectures from guest speakers and newsletters. The Move With Balance community is dedicated to staying in balance for life.
"This program is the best thing that has ever happened to me. The book is so easy to follow I can do it on my own. I've always been athletic, now I'm slipping. Doctors don't help. It is much easier for me to step down from a curb. I am more aware. Identifying the activities, what I need, how I can help myself. A light bulb came on. This illuminated my problem areas. One by one, as I did the exercises, it identified my instabilities: up and down at curbs, balance, rising from floor or seats, writing, reading retention. Solutions doctors can't give me. Before this, I was going down a slippery slope, losing the facilities to be able to balance. I have limitations, but I see the possibilities. The world is opening up. I see possibilities. I shout your praises to all. This has opened up my whole life—I am doing things I had given up. I have started painting again. I have more interest and motivation. I read more slowly with better comprehension. I have better balance."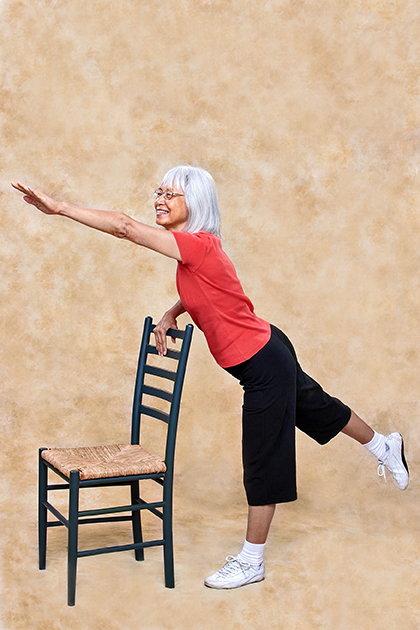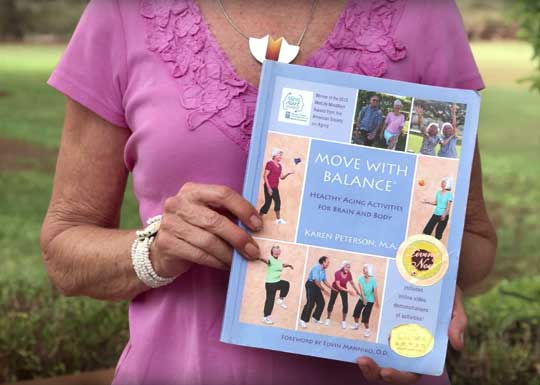 Get started now
Our national award winning book is the cornerstone of learning how to move with balance. The book's easy-to-follow exercises are scientically proven to help increase coordination, sharpen cognitive skills, improve vision, and enhance self-confidence.
Over 100 brightly illustrated pages
Dozens of movements that anyone can do
Includes over 60 exercise demonstration videos
Available for download and in print
Adding music to your exercises
Bill Fuller is an accomplished musician and has created music tailored to program: including original songs created specifically for Move With Balance as well as some old classics. The Move With Balance songs  include new takes of classics such as "I Walk the Line" from Johnny Cash and "Rock Around the Clock" from Bill Haley & His Comets.
The old classics trigger long term memory, while the movements increase the benefits of the exercises.
Visit the shop to purchase individual songs tailored to the exercises in the book. Y

ou can also purchase t

he music manual to learn detailed information on how to combine music with the exercises in the Move With Balance book.
Questions?
Do you have some questions or concerns about how you can adapt the Move With Balance exercises to your health and living environment? Please don't hesitate to get in touch, we would be delighted to help.